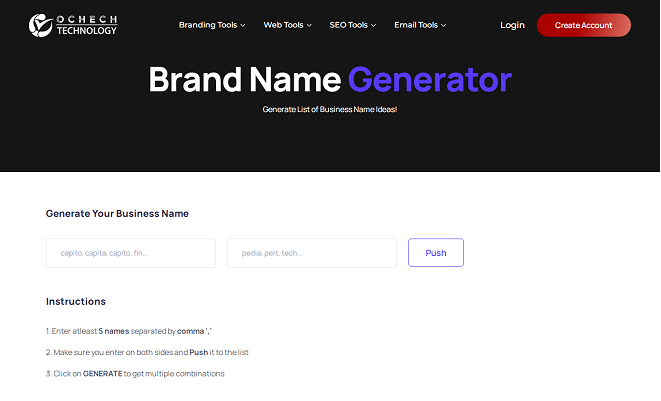 Brand Name Generator Tool
Are you starting a new business or launching a new brand but struggling to come up with a unique and memorable name? Look no further! Our online brand name generator tool is here to help.
Our tool uses the latest algorithms to generate a list of creative and original names based on your specifications. Whether you're looking for a name that reflects your brand's values, stands out in your industry, or is catchy and easy to remember, our tool has got you covered.
With just a few simple clicks, our tool will generate a list of potential names for your brand or business. From there, you can customize and refine the suggestions to ensure that the name is a perfect fit for your brand.
Using our tool is also incredibly easy. Simply enter your desired keywords, industry, and other specifications, and our tool will do the rest. It's that simple!
Don't let the naming process hold you back from launching your dream business or product. Try our online brand name generator tool today and see how it can help you find the perfect name for your brand or business.
Instructions
1. Enter atleast 5 names separated by comma ','
2. Make sure you enter on both sides and Push it to the list
3. Click on GENERATE to get multiple combinations